Minimal Compressed Air, Neutralize Static, Adjustable Air Flow – More Power!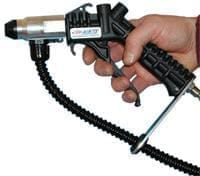 The Ionizing Air Gun is perfect for spot cleaning needs, coupling one of our Ionizing Nozzles with a hand-held Air Gun. Weighing only 11 oz. (300 g.), it's light enough to be used for extended periods. Will not pull debris from the surrounding air and blow it on the finished product. The air gun consumes only 12 cfm @ 80 psi.
Ionizing Air Gun Advantages
6000V of Power means 20% more ions than other suppliers
Neutralize static, blows away dirt
Minimal compressed air
Adjustable air flow
Maintenance free – quiet
Rugged – reliable for industrial use
Ionizing Air Gun
INDUSTRIAL SOLUTIONS FOR IONIZING AIR GUNS
Around guide rods and rollers on any machinery handling web or sheet paper and plastic
Electronics assembly areas or servicing of boards and components
Heat-set ink dryers, paper and textile drying equipment
Sheet feeders, unwinders, stackers, separators
Cutters and slitters for trim removal
Photofinishing operations
Pre-paint prep areas
Lenses, signs, etc.
Packaging materials
Pneumatic conveyors
Injection molded parts
TECHNICAL DATA FOR IONIZING AIR GUNS
The Air Gun consumes only 12 cfm at 80 psi 74 dBA @ 80 psi.
Connecting Static Eliminator Bar, Ionizing Gun and Ionizing Nozzles to Power Supply
While Power Supply is unplugged attach ground lead ring terminal to ground terminal on Power Supply. Remove one of the two red caps on the end of the Power Supply.
Insert power lead into connector and screw in locking nut.