AiRTX Cabinet Coolers provide environmentally friendly, low cost cooling for electronic control panels in hot and hazardous conditions. They condition the air inside electrical enclosures, eliminating downtime due to heat, dirt and moisture. The AiRTX cabinet coolers incorporate a vortex tube to produce cold air from compressed air, without the use of moving parts.
Cabinet Cooler Sizing Calculator
Our new Cabinet Cooler Sizing Calculator helps you find the best AiRTX products for your cooling application. 
Simply plug in the size of your cabinet that needs to be cooled, set the difference of temperatures, and we'll do the rest.
Industrial Solutions For Cabinet Coolers
Multiple Face Machining
The large investment in programming for this horizontal/vertical machining center is protected by the Model 70325 Stainless Thermostatic Cabinet Cooler, which eliminates heat build-up and coolant contamination of sensitive electronics.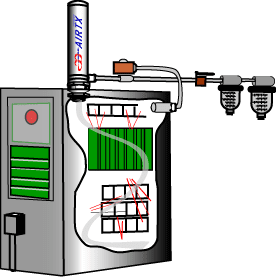 CNC Machining
The Model 70325 Stainless Cabinet Cooling System protects against fluctuations in this precision grinding operation by cooling the cabinet and allowing the electronics to be sealed against mist contamination. Thermostatic control assures you of efficient compressed air usage.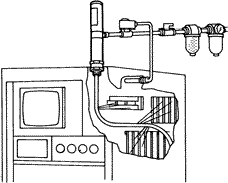 Chemical Processing
The Model 70315 Thermostatic Cabinet Cooling System mounts on the side of this control, out of the operator's way, allowing free rotation of the control and clear view of the process. Thermostatic control minimizes air usage.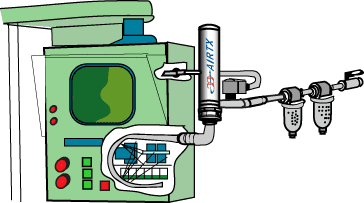 Bottling Plant
AiRTX Cabinet Cooling Systems are stainless steel, so washdown of these leak testing and production controls in a bottling operation is easy. NEMA cabinets can be secured without concern for heat build-up.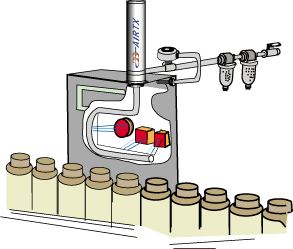 AiRTX Polar Cabinet Cooler Advantages
Higher BTH per CFM
Greater cooling with the same air usages
Available in Stainless Steel and Aluminum
Wide range of Cooling (600-5600 BTUH)
No vibration to affect CCTV cameras
Thermostatically controlled units available
Compact for cramped factory areas
No maintenance, no moving parts
Requires no electricity
No RF/EMI interference
No fans or filters
Muffled for quiet operations
Maintain NEMA 4, NEMA 4x, and NEMA 12 integrity
Uses For Cabinet Coolers
Nc/CNC Cabinets
Industrial PCs
PLCs
Measuring instruments and recording devices
Closed-circuit TV cameras
Motor controls and relays
Technical Data For Cabinet Coolers
Keep Factory-Floor Controls On-Line With Up To 5600 BTUH Of Cabinet Cooling
Dirt, moisture, hazardous or corrosive materials-a bad environment is the Achilles' heel of industrial electronic systems. And it's a real hazard when you have to open the cabinet door to prevent heat build-up.
Compressed-Air-Operated Stainless Cabinet Control Coolers For Hazardous Environments
Using a low-cost, reliable Vortex Tube, compressed-air operated AiRTX Polar™ Cabinet Coolers purge and cool electrical/electronic enclosures with filtered air that's 45° F colder than your compressed air supply. A built-in relief valve lets hot air escape from the cabinet enclosure, while the cooler supplies clean, cold air.
They mount-in minutes-in a standard electrical knockout to maintain your NEMA 4, 4x, or 12 rating. A built-in, heavy duty muffler makes the Cabinet Cooler extremely quiet for use in production areas.
Use Them Anywhere!
If you're an OEM, you'll find the fit and finish of our Cabinet Coolers a complement to your own equipment.
Thermostatic systems are highly recommended as they produce a truly maintenance free cooling system. No forgetting to turn it on or off, increasing or decreasing air supply on hot days, consuming compressed air when cooling is not necessary, and no thermal hot and cold changes. A constant 90°F (32°C) to provide the electronics with a long life. For double wide cabinets up to 10'W x 6'H x 2'D or cabinets in extreme hot conditions above 150°F, order Model 70370.
Model 75008, 15, 25, 35 (Aluminum)

Model 70008 (Stainless Steel)

Model 70015, 25, 35 (Stainless Steel)

Model 70008X (Stainless Steel)
Model 70015X, 25X, 35X (Stainless Steel)

| | | | |
| --- | --- | --- | --- |
| NEMA Type 4,12 | NEMA Type 12,4x | NEMA Type 4,12 | |
| Aluminum | Stainless Steel | Stainless Steel | Description |
| 75008 | 70008x | 70008 | 600 BTU/H Cooler and ducting kit, muffler |
| 75108 | 70108x | 70108 | 600 BTU/H Cooler and ducting kit, muffler and 5 micro auto drain filter |
| 75308 | 70308x | 70308 | 600 BTU/H thermostatic system includes: Cooler, auto drain filter, ducting kit, muffler, thermostat, solenoid valve |
| 75105 | 70105x | 70105 | 1100 BTU/H Cooler and ducting kit, muffler |
| 75115 | 70115x | 70115 | 1100 BTU/H Cooler and ducting kit, muffler and 5 micro auto drain filter |
| 75315 | 70315x | 70315 | 1100 BTU/H thermostatic system includes: Cooler, auto drain filter, ducting kit, muffler, thermostat, solenoid valve |
| 75025 | 70025x | 70025 | 1800 BTU/H Cooler and ducting kit, muffler |
| 75125 | 70125x | 70125 | 1800 BTU/H Cooler and ducting kit, muffler and 5 micro auto drain filter |
| 75325 | 70325x | 70325 | 1800 BTU/H thermostatic system includes: Cooler, auto drain filter, ducting kit, muffler, thermostat, solenoid valve |
| 75035 | 70035x | 70035 | 2800 BTU/H Cooler and ducting kit, muffler |
| 75135 | 70135x | 70135 | 2800 BTU/H Cooler and ducting kit, muffler and 5 micro auto drain filter |
| 75335 | 70335x | 70335 | 2800 BTU/H thermostatic system includes: Cooler, auto drain filter, ducting kit, muffler, thermostat, solenoid valve |
| 75370 | 70370x | 70370 | 5600 BTU/H thermostatic system includes: 2 Coolers (model 70035), auto drain filter, ducting kit, muffler, thermostat, solenoid valve |
Installation Of Thermostatic Cabinet Control Cooler System
Double Wide System Components Model 70370:
2 of Model
70035
Cooler with Conducting Kit
1 of Model
90302
Solenoid
1 of Model
90300
Adjustable Thermostat
1 of Model
90176
Auto Drain Filter
NEMA
TYPE 4,12
NEMA
TYPE 4,12
NEMA
TYPE 12,4x
Inlet
Pressure
Air
Consumption
Capacity
psi
(BAR)
(CFM)
(LPM)
(BTU/N)
(Kcal/H)
Aluminum
SS
SS
75008
70008
70008x
100
7
8
225
600
150
75015
70015
70015x
100
7
15
425
1100
280
75025
70025
70025x
100
7
25
700
1800
450
70035
70035
70035x
100
7
35
990
2800
700
75370
70370
70370x
100
7
70
1980
5600