Sub-Freezing Air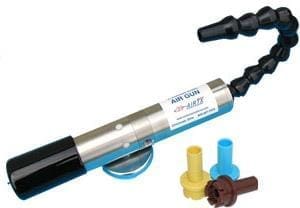 Sub-Freezing air for dry machining and spot cooling industrial processes reliable, non-toxic, non-polluting, no residue, low cost.
The Cold Air Gun is an applied vortex tube to accommodate factory compressed air supplies. The Cold Air Gun is your ready-to-use portable cold-air source for improving dry machining operations or spot-cooling a wide range of industrial processes.
Sub-freezing air for spot cooling in a variety of industrial applications is generated with cold air guns. Cold air gun technology features an applied vortex tube that accommodates factory compressed air supplies. The cold air gun is your ready-to-use portable cold-air source for improving dry machining operations or spot-cooling a wide range of industrial processes. Simply plug the cold air gun into an airline, aim it and start working. AiRTX cold air guns use no residue producing liquids or ozone-depleting chemicals. Light weight and maintenance free, cold air guns provide a low cost spot cooling solution.
Industrial Solutions For Cold Air Guns
Food Processing – Product Cooling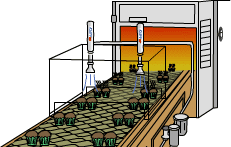 Two stainless steel Model 60040 Air Guns in a plastic enclosure provide clean, dry, cold air to cool baked goods – for a tiny fraction of the cost of a long cooling conveyor.
Plastic Solutions – Machining

Model 60040 Air Gun speeds production on this plastics machining operation and improves finish by cooling cutting tool with 10 °F (-12 C) air.
Woodworking Solutions – Routing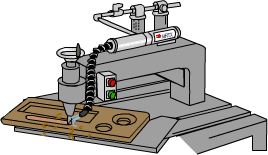 For faster routing, without burning and discoloring the wood, the Model 60040 Air Gun puts 10 °F (-12 C) air on the router bit, leaving no residue.
Metalworking Solutions – Band Sawing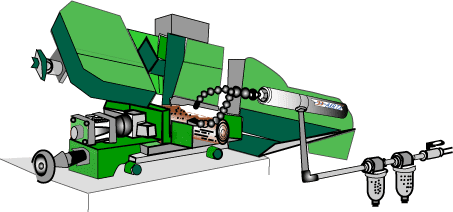 The Model 60060 Air Gun eliminates liquid coolant in cutting of bar stock. Cold air prolongs blade life and stops premature dulling.
Cold Air Gun Advantages
No moving parts, portable, lightweight and low cost.
Uses no electricity, freon or chemicals; just filtered, factory compressed air.
No spark hazard, RF/EMI interference.
Instant on/off, easy to control, cools without waste.
No residue to clean up, no parts washing needed.
Reliable, maintenance-free, durable Stainless Steel construction.
Input air flows of 8, 10, 15, 25, and 35 cfm (220,280,420, 700, 990 lpm); up to
2800 BTU/H (630 Kcal/H) cooling capacity.
Two sizes available.
Uses For Cold Air Guns
Cool manufacturing processes: machining plastics or metals, wood working, soldering, adhesive application, heat sealing, sewing needles, mold tooling and many others.
In the laboratory: cool and dehumidify gas samples, cool environmental chambers.
"Temperature cycle" electronic components, instruments, switches and thermostats.
Air condition electronic control enclosures: CNC cabinets, industrial PCs, PLCs and motor controls.
Generate hot air to +230°F (+110°C), without a spark or explosion hazard to soften plastic, melt glues and seal packaging.
Cool workers wearing protective gear
Technical Data For Cold Air Guns
Using only compressed air, the Cold Air Gun produces a stream of cold air 75°F (41°C) below your compressed air temperature @ 80 psi. Since compressed air supply temperature is very close to the ambient , a 75°F day would yield a cold stream of air from the AiRTX Cold Air Gun of 0°F (-18°C). It's clean, convenient – put the gun where you need it, using the magnetic base – aim the cold air stream onto your work with the flexible hose – go to work! The Air Guns are heavy-duty, built for the rigors of factory-floor service. Made of heavy-gauge Stainless Steel, they are precision-machined, assembled and tested under strict quality control. They will never pit or rust when subjected to coolants, water, or other corrosive materials.
The Cold Air Gun is an applied Vortex Tube to accommodate factory compressed air supplies. The Air Guns are designed to provide maximum cooling. The unit is factory set to put 70% of the incoming compressed air at your disposal for spot cooling. The volume of air can be changed by replacing the 15 cfm generator installed in the unit with any one of the generators that are included with your Cold Air Gun. The higher cfm generator will provide you with more volume of cooling but a slightly higher temperature. The temperature of the air will increase 5° Fahrenheit for each of the generators from the 10 cfm generator. The volume of cold air will remain at 70% of the incoming compressed air. The adjustable Models 60051 and 60061 can change the cold volume from the constant 70% by turning the black end knob. Maximum cold air is at 4 1/2 turns ccw from the closed position, producing a 20% cold air flow or cold fraction.
Compressed Air Supply
Air supplies are plagued with condensed water vapor and droplets in the air lines. This condensation leads to rust and dirt in the air lines. Also, some compressors will allow oil or oil vapor to enter the air lines.
A 5-micron air-water filter, Model 90175, will separate 99% of the foreign material from the air supply, allowing virtually maintenance free operation. The use of an oil filter, Model 91175, with an effective filtration of 0.01 ppm will remove the oil droplets for a cleaner air supply.
Compressed Air Supply Line Size
To obtain maximum performance from the AiRTX products,accurate measures of air pressure (psi) and air volume (scfm) must be obtained. Line pressure of 70-90 psi can be present without a sufficient volume (cfm) of air. To ensure that both pressure and volume are present to efficiently operate the AiRTX products, a line size of 1/4″ pipe or 1/2″ hose should be used for applications up to 10 ft. from the main compressed air header. Use 3/8″ pipe and 3/4″ hose up to 20 ft. and 1/2″ pipe or 1″ hose up to 50 ft. from the header.
Model 60015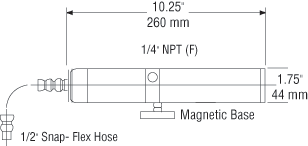 Model 60051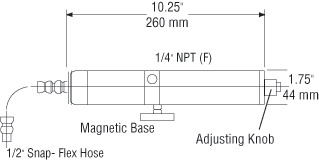 Model 60061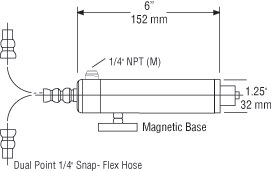 Model 60071