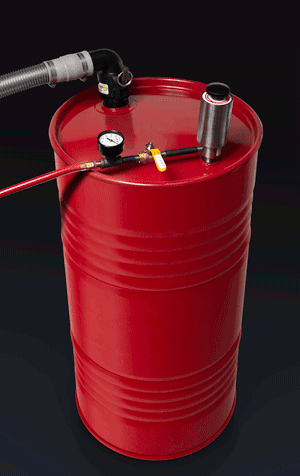 The AiRTX Drum Devil is the most reliable and low maintenance industrial vacuum on the market. It easily handles liquid transfer and spill pick up on production floors, and is safer than electric operated vacuum systems. Constructed of heavy-duty stainless steel, it is durable enough to handle any job: heavy oils, sludge, waste water and toxic liquids.
How Does the AiRTX Drum Devil Work?
With a quick turn of the knob, this high-powered dual-action vacuum system can fill or empty its drum in less than two minutes. The operator controls the flow rate, so safety is maximized when working with hazardous liquids. An automatic float valve prevents overfilling.
AiRTX offers two Drum Devil System models:
The Drum Devil System (Model 90600): Handles spill cleanup only. The suction pump operates in conjunction with your standard drum and factory compressed air. The squeegee operation works on smooth or rough surfaces. Includes all the accessories needed for immediate operation.
The Drum Devil II System (Model 90650): Handles two-way liquid transfer and spill cleanup. Easily switches from vacuum mode to empty mode. Includes all the accessories needed for immediate operation.
Why Purchase an AiRTX Drum Devil?
The AiRTX Drum Devil beats shop vacuums on performance, reliability and price. Electric-powered shop vacuums systems are not designed for use in industrial or hazardous environments. They quickly experience wear and tear from clogging and shorting. The AiRTX Drum Devil does not use electricity, so it is safe to use in wet areas. Its large drum capacity and dual action flow ability guarantee that no efficiency is lost between jobs. And the need for floor-drying absorbent material is eliminated.
User friendly and durable, the AiRTX Drum Devil is the most efficient, cost effective and safest way to handle industrial cleanup.
AiRTX Drum Devil Advantages
Safer and more durable than industrial shop vacuums
Requires no electricity
Easily picks up high viscosity liquids, chips and sludge
Eliminates need for floor-drying absorbent materials
INDUSTRIAL SOLUTIONS FOR DRUM DEVIL SYSTEMS
Spill Pick-up
Liquid transfer, fills 55 gallon barrel under 2 minutes
Portable vacuum operations
Cleaning sumps and sludge
Technical Data For Cold Air Guns
CONVEYVAC / STRONGMAN CONVEYV
Drum Devil & Drum Devil II Specifications

Specifications
Drum Devil 90600
Recommended Usage:
Spill Pick-up/Liquid
Operating psi Range:
80-100 psi
Noise Level:
78 dBA
Vacuum Capabilities
8.5 HG @ 80 psi
Gallon of Water Pick-up/Min.
33 gpm
Range of Pick-up Materials
Water to Wet Sludge
Throat Size/Diameter
1.5″
Air Consumption
28 cfm @ 80 ps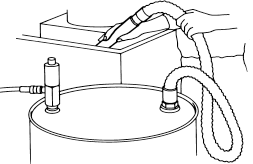 1. OPERATING INSTRUCTIONS
The AiRTX Drum Devil Model 90600 suction pump operates in conjunction with a standard drum and factory compressed air. The Drum Devil operates by passing near sonic air through a .002″ annular orifice, creating a vacuum of 8.5" Hg @ 80 psi within the drum. It is recommended that the Drum Devil only be used with steel drums which are in good condition.
2. SET-UP OF DRUM DEVIL MODEL 90600
A. Thread the Drum Devil stem into the 3/4″ threaded opening on the drum. B. Thread the 2″ threaded plug fitting into the larger threaded opening on the drum. C. Hook up a regulated 3/8″ or 1/2″ air line to the 1/4" NPT ball valve located on the Drum Devil. To prevent line debris from interfering with pump performance, an air line filter is recommended. AiRTX Air Filter Model 90175 can be used with the Drum Devil Model 90600. D. Insert the 90° Hose Cam cuffed hose securely over the plug fitting now located on the drum. For liquid transfer insert the free end of the hose, with or without attachments, into the liquid to be vacuumed and turn on the air supply, regulated to a working pressure between 70 and 90 psi. A float valve located on the bottom of the Drum Devil will automatically shut off the unit when the drum is full. The ball valve on the Drum Devil may also be used to turn off the unit at any time during operation. E. For wet chip pick up, insert the wand, crevice tool, brush, or skimmer onto the end of the wands. The squeegee tool can be used to pick up liquids from floor areas. Press down and push the squeegee tool away from you to quickly pick up liquid spill.
CAUTION:
IT IS NOT RECOMMENDED TO USE THE DRUM DEVIL MODEL 90600 WITH FLAMMABLE LIQUIDS SINCE A STATE OF VACUUM MAY LOWER THE FLASH POINT. DO NOT USE WITH PLASTIC DRUM – ONLY GOOD CONDITION METAL DRUMS AS IMPLOSION OF THE DRUM WILL OCCUR