More Power at a Fraction of the Cost of Open Copper Tubes or Plastic Nozzles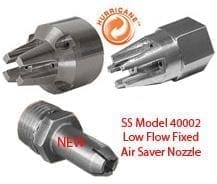 AiRTX Air Nozzles are uniquely designed to drastically reduce compressed air consumption. The Air Nozzles harness the power of compressed air to do BIG blow-off, cooling and parts ejection jobs, without spewing raw compressed air and noise all over your plant.
They are ideal for anything from a hand-held blow-off gun to multi-unit nozzle manifolds for conveyorized products of transfer lines. Even small air usage applications can show major cost reduction.
AiRTX air nozzles generate high volume and thrust with low air consumption. Even small air usage applications can show major cost reduction due to energy savings. Demand on the air compressor is greatly reduced with AiRTX air nozzles, leading to equipment cost savings. AiRTX air nozzles satisfy OSHA requirements for noise as well as dead end pressure.
The Hurricane Line of Nozzles provide the benefits of the AiRTX Nozzles but have greater thrust when power is needed for moving heavy objects, removing large amounts of liquids from parts in a short time, and larger air flows for quicker drying.
Contact Your Electric Company!
They may be offering hard cash for buying AiRTX Air Nozzles to save energy. Duke Energy for example, offers up to $20.00 for each AiRTX Air Nozzle that reduces kWh energy use. Call us for details 800-307-7475.
INDUSTRIAL SOLUTIONS FOR NOZZLES
Molding
The Model 48009 Adjustable Air Saver Nozzle uses a minimal amount of compressed air to reduce high volume and cooling for quick part release. Small size and instant on/off make it ideal for molding machines.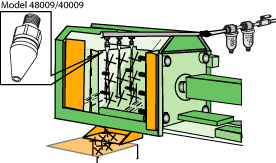 Food Industry
The Fixed Flow Nozzle 48005 is ideal for drying food containers prior to labeling. It will not pit or need replacement in this wet environment. Sta-Put Hose Model 40000 series holds Nozzle Model 48005 in place, replacing copper tube.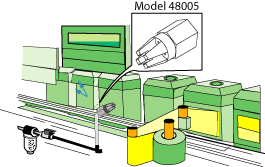 Drilling – Chip Removal
The 25:1 air amplification of the Model 48008 Fixed Flow Air Saver Nozzle provides plenty of cleaning power for a factory air gun, while still meeting OSHA requirements for dead-end pressure and noise limits.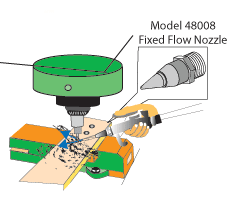 USES FOR AIRTX NOZZLES
Replacing direct compressed air use – pipe nipples and copper tube
Ejecting parts from molding machines and stamping presses
Blow-off of chips, trim scrap, swarf
Part cleaning before painting
Plant air conservation and noise reduction
Cooling molded or cast parts
Cleaning/cooling of metal strip and plastic/paper webs
Cleaning/cooling of conveyorized or transfer line parts
Manifolds available for multiple units
STAINLESS STEEL AIR SAVER NOZZLES ARE IDEAL FOR
Food processing
Hot corrosive environments
Maximum durability in harsh environments
AiRTX Nozzles Advantages
Cuts energy bill by 50-90%
Meets OSHA noise and dead-end pressure requirements.
Increase air flow by 50:1
Reduce noise level by 50dBA or more.
Reduce compressed air usage without losing production.
A variety of adjustable, fixed flow styles and thrusts available.
Low initial and operating costs
Mountable on Sta-Put Hoses, Blow Guns, and Manifolds
AIRTX AIR SAVER NOZZLES ADVANTAGES
Generates high volume with lowest possible air consumption
Adjustability makes them easy to adapt to existing applications and immediately cut air use to a minimum for the job
Greatly reduces demand on the compressor
Low initial and operating costs
Meets OSHA noise and dead-end pressure requirements
Easy to control flow/force
Longer stream of high velocity air
Adjustable air flow
Set screw for locking air usage
TECHNICAL DATA FOR NOZZLES
MODEL 48004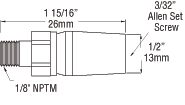 Nozzle Blow-Off Forces in Ounces Of Thrust (Nozzle is preset to consume 15 cfm @ 80 psi)
Distance from Target
Pressure (PSIG)
40
60
80
100
6″
12
16
20
22
12″
11
15
18
21
18″
10
13
16
18
MODEL 48009 (ALUMINUM), MODEL 40009 (STAINLESS STEEL)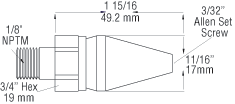 Nozzle Blow-Off Forces in Ounces Of Thrust (Air Saver Nozzle is preset to consume 15 cfm @ 80 psi)
Distance from Target
Pressure (PSIG)
40
60
80
100
6″
7.7
12.2
16.5
20.6
12″
7.6
11.5
15.9
20.1
18″
6.9
10.0
13.3
16.8
MODEL 48109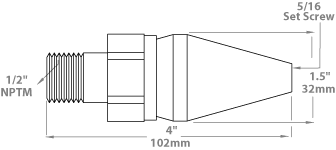 Nozzle Blow-Off Forces in Ounces Of Thrust
Distance from Target
Pressure (PSIG)
40
60
80
100
6″
16
24
33
41
12″
15
22
27
40
18″
14
20
22
34
FIXED FLOW NOZZLES
MODEL 48002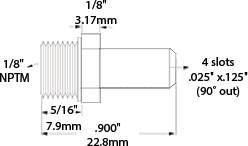 Nozzle Blow-Off Forces in Ounces Of Thrust
Pressure (PSIG)
40
60
80
100
Air Usage CFM
0.6
1.2
1.8
2.2
MODEL 48005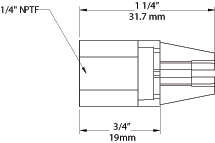 Nozzle Blow-Off Forces in Ounces Of Thrust
Distance from Target
Pressure (PSIG)
40
60
80
100
6″
19
34
44
50
12″
17
32
42
48
18″
13
27
38
44
Air Usage CFM
17
24
28
36
MODEL 48006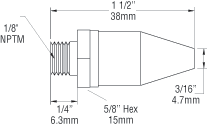 Nozzle Blow-Off Forces in Ounces Of Thrust
Distance from Target
Pressure (PSIG)
40
60
80
100
6″
4.5
6.1
8
11.6
12″
4
5.7
8.3
11
18″
3.7
5.2
7.5
10.8
Air Usage CFM
6
7
9
11
MODEL 48007


Nozzle Blow-Off Forces in Ounces Of Thrust
Distance from Target
Pressure (PSIG)
40
60
80
100
6″
9
16
21
24
12″
8
15
20
23
18″
6
13
18
21
Air Usage CFM
9
13
15
19
MODEL 48107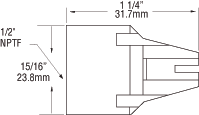 Nozzle Blow-Off Forces in Ounces Of Thrust
Distance from Target
Pressure (PSIG)
40
60
80
100
6″
16
24
34
46
12″
14
25
32
40
18″
12
20
28
38
Air Usage CFM
23
28
32
35
MODEL 48008, 40008, 48010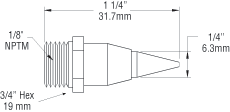 Nozzle Blow-Off Forces in Ounces Of Thrust
Distance from Target
Pressure (PSIG)
40
60
80
100
6″
4.5
6.1
8.0
11.6
12″
4.0
5.7
8.3
11
18″
3.7
5.2
7.5
10.8
Air Usage CFM
6.0
7.0
9.0
11