Air Amplification Where you need it. Flexible Adjustment Time after Time.
The AiRTX Sta-Put Hoses use our uniquely designed Air Saver Nozzles to provide compressed air in hard to get places. Whether you choose the Sta-Put Hose with the 5/32″ copper rod in the 3/8″ hose or the Heavy Duty Models with the 7/32″ copper rod in a 1/2″ hose. You are assured of a low cost and effective way to get compressed air to your application on a repeat basis. The Heavy Duty Sta-Put Hoses gets those tough jobs done!
INDUSTRIAL SOLUTIONS FOR STA-PUT HOSES
USES FOR AIRTX STA-PUT HOSES
Blow off applications, chip, dust, dirt
Drying- hard to get to hooks and crevices
Cooling
AiRTX Sta-Put Hoses Advantages
Provides compressed air in hard to get places
Full Flow for tough and bigger jobs (Heavy Duty Sta-Put Sereis 40100, 40101, 40102, 40103)
Stays flexible but holds its shape even with high pressure compressed air and repeat bending
Various end fitting and lengths to adapt to AiRTX Air Saver Nozzles
Replaces copper tubes that bend, break or crimp each time they move
Provides compressed air to tight spots to cool bearings, or eject a part from a stamping machine
Safe operation with low air consumption and noise level
Oil and chemical resistant 3/8″ hose
Oil and chemical resistant 1/2″ hose on Hurricane Models
Sta-Put Hoses Case Study
An automotive radio parts stamping plant used 3 to 5, 1/4″ open copper tubes of various lengths on each machine to help eject the parts quicker. The plant has 57 stamping machines. Moving, cleaning, and changing the dies on the stamping machines meant bending, crimping and often changing the 1/4″ copper tubes to get them in the right position for blow-off.
The life of the copper tubes being replaced on each machine was 2 to 3 days. The cost to the company of (replacing the tubes was 20 minutes of a maintenance man's time for cutting a new piece of tubing, cost of tubing, cost of compression fittings, time to reconnect the tube at the right spot, and down time for the machine.
The Sta-Put Hose with a 1/4″ copper rod retains its shape and resists crimping or breaking. The Model 40000 Sta-Put Hose lasted 3 months before it needed replacing. The cost of a Sta-Put Hose versus the cost of the often replaced coppertube was much less, so the decision to change to the Sta-Put hose was simple and very convenient.
With the 48009 Air Saver Nozzle in the end of the Sta-Put, the noise reduction in the plant dropped 20%. Also, the compressed air saving from the Air Saver Nozzle Model 48009 versus the open 1/4″ copper tubes allowed the company to shut down a 50 Hp compressor resulting in an additional savings of $16,000 per year.
TECHNICAL DATA FOR STA-PUT HOSES
40000 SERIES

| | |
| --- | --- |
| Model | Description |
| 40000-6 | 6″ x 3/8″ Flexible Sta-Put Hose with 1/8″ NPTF Fitting for use with Nozzles 48004, 48006, 40009, 40008 , 1/4″ NPTM Air Inlet |
| 40000-8 | 8″ x 3/8″ Flexible Sta-Put Hose as above |
| 40000-12 | 12″ x 3/8″ Flexible Sta-Put Hose as above |
| 40000-18 | 18″ x 3/8″ Flexible Sta-Put Hose as above |
| 40000-24 | 24″ x 3/8″ Flexible Sta-Put Hose as above |
| 40000-30 | 30″ x 3/8″ Flexible Sta-Put Hose as above |
| 40000-36 | 36″ x 3/8″ Flexible Sta-Put Hose as above |
40001 SERIES

| | |
| --- | --- |
| Model | Description |
| 40000-6 | 6″ x 3/8″ Flexible Sta-Put Hose with 1/4″ NPTM Fitting for use w/ all Wedges & Nozzles 40005, 40007, 1/4″ NPTM Air Inlet |
| 40000-8 | 8″ x 3/8″ Flexible Sta-Put Hose as above |
| 40000-12 | 12″ x 3/8″ Flexible Sta-Put Hose as above |
| 40000-18 | 18″ x 3/8″ Flexible Sta-Put Hose as above |
| 40000-24 | 24″ x 3/8″ Flexible Sta-Put Hose as above |
| 40000-30 | 30″ x 3/8″ Flexible Sta-Put Hose as above |
| 40000-36 | 36″ x 3/8″ Flexible Sta-Put Hose as above |
40002 SERIES

| | |
| --- | --- |
| Model | Description |
| 40000-6 | 6″ x 3/8″ Flexible Sta-Put Hose with 1/4″ NPTF Fitting, 1/4″ NPTM Air Inlet |
| 40000-8 | 8″ x 3/8″ Flexible Sta-Put Hose as above |
| 40000-12 | 12″ x 3/8″ Flexible Sta-Put Hose as above |
| 40000-18 | 18″ x 3/8″ Flexible Sta-Put Hose as above |
| 40000-24 | 24″ x 3/8″ Flexible Sta-Put Hose as above |
| 40000-30 | 30″ x 3/8″ Flexible Sta-Put Hose as above |
| 40000-36 | 36″ x 3/8″ Flexible Sta-Put Hose as above |
40100 HEAVY DUTY SERIES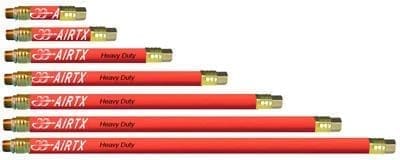 | | |
| --- | --- |
| Model | Description |
| 40000-6 | 6″ x 1/2″ Heavy Duty Sta-Put Hose with 1/4″ NPTF Fitting, 3/8″ NPTM Air Inlet |
| 40000-8 | 8″ x 1/2″ Heavy Duty Sta-Put Hose as above |
| 40000-12 | 12″ x 1/2″ Heavy Duty Sta-Put Hose as above |
| 40000-18 | 18″ x 1/2″ Heavy Duty Sta-Put Hose as above |
| 40000-24 | 24″ x 1/2″ Heavy Duty Sta-Put Hose as Above |
| 40000-30 | 30″ x 1/2″ Heavy Duty Sta-Put Hose as Above |
| 40000-36 | 36″ x 1/2″ Heavy Duty Sta-Put Hose as Above |
40101 HEAVY DUTY SERIES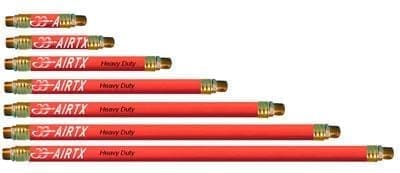 | | |
| --- | --- |
| Model | Description |
| 40000-6 | 6″ x 1/2″ Heavy Duty Sta-Put Hose with 1/4″ NPTM Fitting, for use w/ all Wedges & Nozzles 40005, 40007, 3/8″ NPTM Air Inlet |
| 40000-8 | 8″ x 1/2″ Heavy Duty Sta-Put Hose as above |
| 40000-12 | 12″ x 1/2″ Heavy Duty Sta-Put Hose as above |
| 40000-18 | 18″ x 1/2″ Heavy Duty Sta-Put Hose as above |
| 40000-24 | 24″ x 1/2″ Heavy Duty Sta-Put Hose ss Above |
| 40000-30 | 30″ x 1/2″ Heavy Duty Sta-Put Hose as Above |
| 40000-36 | 36″ x 1/2″ Heavy Duty Sta-Put Hose as Above |
40102 HEAVY DUTY SERIES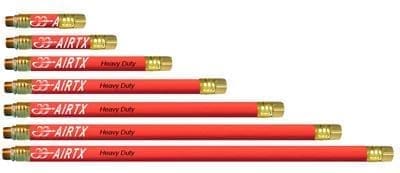 | | |
| --- | --- |
| Model | Description |
| 40000-6 | 6″ x 1/2″ Heavy Duty Sta-Put Hose with 3/8″ NPTF Fitting, 3/8″ NPTM Air Inlet |
| 40000-8 | 8″ x 1/2″ Heavy Duty Sta-Put Hose as above |
| 40000-12 | 12″ x 1/2″ Heavy Duty Sta-Put Hose as above |
| 40000-18 | 18″ x 1/2″ Heavy Duty Sta-Put Hose as above |
| 40000-24 | 24″ x 1/2″ Heavy Duty Sta-Put Hose as Above |
| 40000-30 | 30″ x 1/2″ Heavy Duty Sta-Put Hose as Above |
| 40000-36 | 36″ x 1/2″ Heavy Duty Sta-Put Hose as Above |
40103 HEAVY DUTY SERIES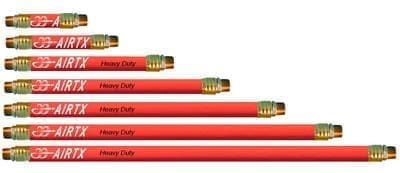 | | |
| --- | --- |
| Model | Description |
| 40000-6 | 6″ x 1/2″ Heavy Duty Sta-Put Hose with 3/8″ NPTM Fitting, 3/8″ NPTM Air Inlet |
| 40000-8 | 8″ x 1/2″ Heavy Duty Sta-Put Hose as above |
| 40000-12 | 12″ x 1/2″ Heavy Duty Sta-Put Hose as above |
| 40000-18 | 18″ x 1/2″ Heavy Duty Sta-Put Hose as above |
| 40000-24 | 24″ x 1/2″ Heavy Duty Sta-Put Hose as Above |
| 40000-30 | 30″ x 1/2″ Heavy Duty Sta-Put Hose as Above |
| 40000-36 | 36″ x 1/2″ Heavy Duty Sta-Put Hose as Above |