The Heart of It All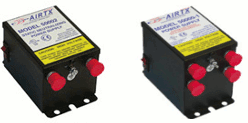 Supplies power for all AiRTX Ionizing Equipment Connecting Ionizing Bar, Ionizing Air Knife, Ionizing Gun and Ionizing Nozzles to Power Supply.
A Power Unit Built to Last
Providing up to 7500 Volts of positive and negative ions to neutralize any static charged product. This is a job proven product that will provide years of service in combating static problems to employees working around high static applications.
The Power Supply can operate any of our static elimination equipment.
AiRTX Power Supply Advantages
6000V or 7500V output
Long range static elimination
Both UL and CE recognized components
Lighted On/Off switch
Works on 60/50 Hz
115 or 230V input power
Plug-in appliance hook-up
Powers 2 (Model 50002) or 4 (Model 50000) static eliminators
Power surge protector
Specially designed to prevent heat build-up, providing long life and reliability
Power operating light
Shockless, Quiet, durable
INDUSTRIAL SOLUTIONS FOR POWER SUPPLIES
Heat-set ink dryers, paper and textile drying equipment
Electronics assembly areas or servicing of boards and components
Around guide rods and rollers on any machinery handling web or sheet paper and plastic
Pre-paint prep areas
Sheet feeders, unwinders, stackers, separators
Lenses, signs, etc.
Packaging materials
Pneumatic conveyors
Injection molded parts
Cutters and slitters for trim removal
Photofinishing operations
TECHNICAL DATA FOR POWER SUPPLIES
CONNECTING IONIZING BAR, IONIZING GUN, AND SINGLE
POINT IONIZING NOZZLES TO POWER SUPPLY
While the Power Supply is unplugged attach ground lead ring terminal to ground terminal on Power Supply. Remove one of the Two/Four red caps on the end of the Power Supply. Insert power lead into connector and screw in locking nut.
Warning:
Remember to turn unit off when not in use!