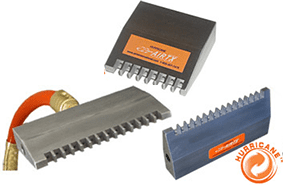 When your particular application requires a thin flow of air with a high thrust of power, the AiRTX Air Saver High Thrust Wedges are designed for you.
The Wedge Jet is available in 2″ and 4″ width and either in a standard unit or high powered Hurricane model. Also all of the wedges are available in Aluminum and Stainless Steel.
AiRTX Wedges Advantages
NO SHIMS
25:1 Air Amplification
Low initial and operating costs
Highest thrust of any blow-off nozzle
Reduce compressed air costs by 30% to 50%
Easy to control flow/force, instant on/off
Meets OSHA noise and dead-end pressure requirements
No maintenance, no moving parts, no vibration
No electricity or explosion hazard
No RF/EMI interference
Reduces noise levels of open air lines by 30 dBA
Provides wide blow-off for stamping, sand blasting, drying, and parts ejection
Manifolds available for Model 38050 in series
Mountable on Sta-Put Hoses, Blow Guns, and Manifold.
Choose the Nozzle that is best for your particular application. Call 1-800-307-7475 for an AiRTX Application Engineer
INDUSTRIAL SOLUTIONS FOR WEDGES
FOOD PROCESSING
The 2″ Model 30050 Stainless Steel Wedge removes water and dries cans in this soup processing plant. The high thrust feature produces maximum drying to ensure speed. Hurricane Models for higher thrust available in 2″ and 4″ sizes.

STAINLESS STEEL WEDGES ARE IDEAL FOR
Food processing
Hot corrosive environments
Maximum durability in harsh environments
USES FOR AIRTX WEDGES
Ejecting parts from molding machines and stamping presses
Blow-off of chips, trim scrap, swarf
Part cleaning before painting
Cooling extruded parts
TECHNICAL DATA FOR WEDGES
MODEL 38050/30050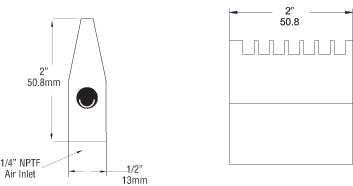 2″ Wedge Blow-Off Force in Ounces of Thrust
Distance from Target
Pressure (PSIG)
40psi
60psi
80psi
100psi
6″
20
28
34
39
12″
14
22
29
35
18″
10
17
24
30
Compressed Air CFM
16
22
28
32
Consumption LPM
453
623
794
906
MODEL 38054/30054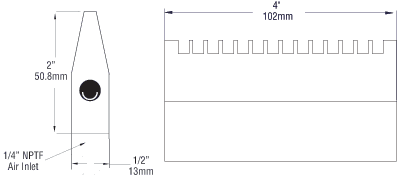 4″ Wedge Blow-Off Force in Ounces of Thrust
Distance from Target
Pressure (PSIG)
40psi
60psi
80psi
100psi
6″
40
56
68
78
12″
28
44
58
70
18″
20
34
48
60
Compressed Air CFM
32
44
56
64
Consumption LPM
906
1246
1588
1812
MODEL 38150/30150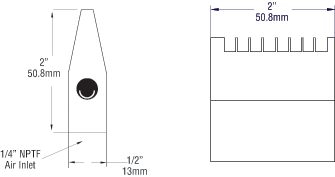 2″ Hurricane Wedge Blow-Off Force in Ounces of Thrust
Distance from Target
Pressure (PSIG)
40psi
60psi
80psi
100psi
6″
46
64
78
90
12″
32
51
67
81
18″
23
39
55
69
Compressed Air CFM
29
40
50
58
Consumption LPM
820
1132
1415
11641
MODEL 38154/30154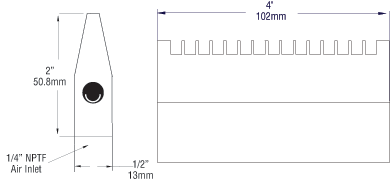 4″ Hurricane Wedge Blow-Off Force in Ounces of Thrust
Distance from Target
Pressure (PSIG)
40psi
60psi
80psi
100psi
6″
94
128
156
180
12″
64
102
134
162
18″
46
78
110
130
Compressed Air CFM
52
70
90
104
Consumption LPM
1471
1981
2547
2943
WEDGE FLOW PATTERN