Instantly Control Air Temperature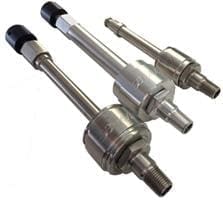 Instant cold or hot air – from -40°f to 230°f – from ordinary compressed air.
It's your answer for instant cold air, where and when you need it, using nothing but compressed air as a power source. There's no maintenance, no mess, no explosion hazard, no electricity, no moving parts – just clean, cold air for industrial or laboratory spot cooling.
Vortex Tubes from AiRTX – Precision Stainless Steel for the Price of the "Other Guys" Aluminum Tubes
Starting with corrosion-resistant, food-grade Stainless Steel as the principal material of construction, AiRTX designers have optimized every aspect of Vortex Tube design for convenience, dependable performance, and long-lasting service.
The AiRTX Vortex Tube is as good-looking as it is functional. It's precision-machined, assembled, and tested.
Manufactured to exacting tolerances, AiRTX Vortex Tubes are produced under strict quality control to ensure years of reliable, maintenance-free operation.

*inlet temperature 70°F/21.1°C
Industrial Solutions For Vortex Tubes
Metal Fabricating – Tapping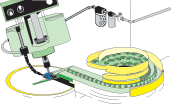 Tapping brass clips is completed without messy liquid coolants using air from a Vortex Tube to cool the tap. The brass does not have a chance to gum up, the cut is cleaner, and secondary operations are eliminated.
Plastic – Slitting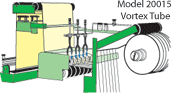 Cutting wheels on this slitter can work at top speed and stay sharper longer – when cold air from Vortex Tubes eliminates the friction heat build-up. The trim edge is also cleaner.
Transportation Spot-Welding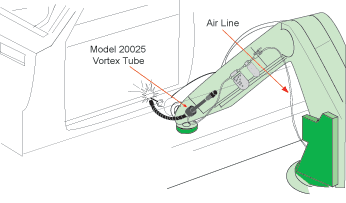 Cooling this spot-welding operation with a Vortex Tube virtually eliminates secondary smoothing operations, and greatly improves the appearance of the product.
Metalworking – Single Point Threading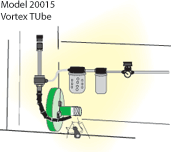 Heat build-up in this single point threading operation can shorten tool life and produce a rough thread. Clean, dry, sub-zero cooling allows increased speed, while eliminating tool microcracking and premature failure.
AiRTX Vortex Tube Advantages
No moving parts, portable, lightweight and low cost.
Uses no electricity, freon or chemicals; just filtered, factory compressed air.
No spark hazard, RF/EMI interference.
Instant on/off, easy to control, cools without waste.
No residue to clean up, no parts washing needed.
Reliable, maintenance-free, durable Stainless Steel construction.
Input air flows of 8, 10, 15, 25, and 35 cfm (220,280,420, 700, 990 lpm); up to 2800 BTU/H (630 Kcal/H) cooling capacity.
Two sizes available.
Uses For Vortex Tubes
Cool manufacturing processes: machining plastics or metals, wood working, soldering, adhesive application, heat sealing, sewing needles, mold tooling and many others.
In the laboratory: cool and dehumidify gas samples, cool environmental chambers.
"Temperature cycle" electronic components, instruments, switches and thermostats.
Air condition electronic control enclosures: CNC cabinets, industrial PCs, PLCs and motor controls.
Generate hot air to +230°F (+110°C), without a spark or explosion hazard to soften plastic, melt glues and seal packaging.
Cool workers wearing protective gear.
Technical Data For Vortex Tubes
Vortex Tube Capacities
Model
Inlet
Pressure*
Air Consumption
Capacity
psi
(BAR)
(CFM)
(LPM)
(BTU/N)
(Kcal/H)
20008
100
7
8
220
600
100
20010
100
7
10
280
600
150
20015
100
7
15
420
1100
230
20025
100
7
25
700
1800
380
20035
100
7
35
990
2800
630